John Burr is a professional
voice coach
offering services in voiceover lessons and training. When you trust John Burr Voice Dynamics, you will be assisted in becoming more comfortable and confident in your ability to perform well in auditions and on the mike, as well as taught how to perfect your performances and how to get the most out of your voice for certain situations. Call (941)-378-0021 or see johnburrvoice.com for details.
We welcome your comments!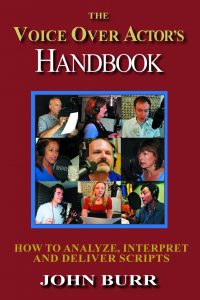 John's new book, The Voice Over Actor's Handbook, is now available on Amazon! Go to John's Book for details.
Class Schedule
In the Sarasota/St. Petersburg/Tampa Area:
Deadline for registration is the Wednesday before each class. For those wanting to register late, be sure to call us to check as to whether the class is full or not. If any space is still available, you will be given authorization to register.
Get In Touch
Contact us using the information below. Usually we contact you back in 24 hours.
Call Us Now!
(941) 378-0021
Find Us Now!
7825 Kavanagh Court, Sarasota, FL 34240