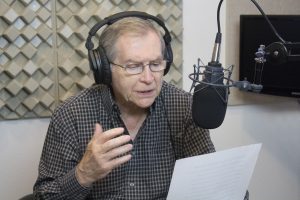 John Burr has spent more than 30 years as a recording engineer/producer, a musical and theatrical performer/director, and a professional trainer/coach. His many years of working as a voiceover talent, recording engineer, editor, and producer have given him an in-depth understanding of every stage of the production process.
John's transition to voice acting coach initially came about as a result of requests by several Washington voiceover performers to help them develop their skills to a higher level, after he had directed them on script delivery for his production clients.
Many of his former students have narrated for Discovery and Learning Channels, History Channel, National Geographic, and national audiobook producers, as well as many of America's well-known corporations, such as Marriott, Xerox, IBM, Danaher, Carey International, and Lockheed-Martin.
Years earlier, as a singer and assistant conductor of the U.S. Air Force Band Singing Sergeants and as a performer and musical director for the American Educational Theater Association and USO, he toured nationally and internationally for several years. As an actor and singer, he performed in many professional stock company plays and musicals, and performed in over forty operas with the Washington Opera.
He entered the world of recording by apprenticing with Ed Greene, one of the premier recording engineers in the U.S. He then built a 24-track recording studio in the Washington, DC area, JRB Sound Studios, whose clients included top ad agencies and PR firms in the DC area and the Washington Redskins. He also recorded demo albums with large ensembles for four major national music publishers.
He recorded and produced over 100 record albums and CD's for classical, jazz, R&B, and country ensembles, and recorded, among others, the Vladimir Horowitz 50th Anniversary Recital at the White House for RCA. He later transitioned into audio and video production, and among his clientele were 5 Fortune 500 companies.
The uniqueness in his approach to training comes from many years of applied language dynamics and musical characteristics to the process of teaching how to understand and interpret scripts and how to communicate with others in a natural, believable, purposeful, and convincing manner.
Want more insight, information, and entertainment? Go to John's Blog.