Ten 2 1/2-hour sessions: 25 hours of instruction
Session 1: Overview of the Voice Over Industry
Where the business comes from. Skills needed to do the job. Finding your true voice. The importance of commitment. Realistic income projections. Importance of continuing education. Evolution of the demo. Categories of demos. Basic marketing considerations.
Session 2: The Basics of Script Interpretation
How the process of interpreting scripts is affected by language dynamics: in-depth discussion of sentence structure, the hierarchy of parts of speech, and how to analyze scripts for phrasing and proper emphasis. The importance of giving the producer/director what he or she wants. Intimate medium vs. projected medium. Volume vs. emotional intensity. Mood considerations. Importance of pitch comprehension. Accuracy of the read. How to handle energy. How to breathe to preserve energy and endurance.
Session 3, 4, 5 and 6:  Commercials
How to approach commercial scripts, including retail/malls, public service announcements, automotive, travel/hospitality, business/corporate, banks/financial, internet promotion, services, the arts, restaurants, and medical/hospital/doctors/dentists. Reading of commercial scripts by the students, one-on-one with John Burr, who will give in-depth critique for the student and the class.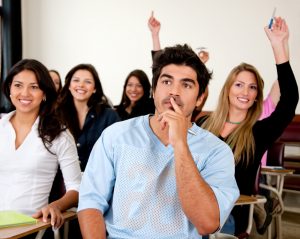 Session 7, 8, 9 and 10:  Narrations
Explanation of how narrations differ from commercials in interpretive treatment. Categories used in the classes will include documentary, historical, biographical, explainer video, medical, technical, human interest, general interest, theatrical, psychological, scientific, travel and learning/training. Reading and critique of narration scripts by the students with John Burr, as in the commercial sessions.
Each session will close with questions and answers, and commentary on the subjects covered in the session.
Following completion of the course, John will call each participant to discuss his or her progress, and make recommendations as to the next step to take in the training program.
Fundamentals of Voice Over Interpretation and Delivery
Schedule of Class Sessions:
Summer                                                           Fall
Session 1:   Thursday, June 15th                     Thursday, September 14th
Session 2:   Thursday, June 22nd                   Thursday, September 21st
Session 3:   Thursday, June 29th                    Thursday, September 28th
Session 4:   Thursday, July 6th                        Thursday, October 5th
Session 5:   Thursday, July 13th                      Thursday, October 12th
Session 6:   Thursday, July 20th                     Thursday, October 19th
Session 7:   Thursday, July 27th                      Thursday, October 26th
Session 8:   Thursday, August 3rd                   Thursday, November 2nd
Session 9:   Thursday, August 10th                 Thursday, November 9th
Session 10: Thursday, August 17th                 Thursday, November 16th
All classes are from 6:30 PM to 9 PM.
All script materials and online instructions will be e-mailed to each participant prior to the first class.
Admission to the class is by a simple telephone audition. Prior to registering, e-mail us at john@johnburrvoice.com, and we will send you the six short audition scripts. Tell us in the e-mail when John can call you to do the audition. Be sure to include your phone number in the e-mail.
Class size is limited to 12 participants
You must purchase The Voice Over Actor's Handbook from Amazon prior to the commencement of the first class. It is available on AMAZON.
Registration Fee: 350.00