Delight in the voice over experience with master coach John Burr.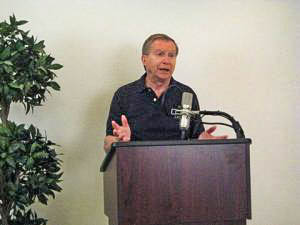 In this three-hour workshop, John will show you where the sources of work originate, explain how the business has evolved to working from home studios, talk about agents and unions, spell out the fundamentals of voice over delivery, and best of all, have you perform varied voice over reads, supported by his coaching and critique.
Following the session, John will call you to talk about your performances, and will give you an honest assessment of your talent and basic ability.
If the assessment is positive, you have the option of beginning a training program that will lead to production of a demo, setting up a home studio, and teaching you how to market yourself.
Don't miss this opportunity to explore the world of voice over and find out for yourself if you have what it takes to build a part or full-time career in the interesting, challenging, and lucrative field.
Introduction to Voice Over Schedule of Classes:
Saturday, June 15, 2019 9 AM – 12 Noon
Class is limited to 12 participants
The registration fee is only 50.00.