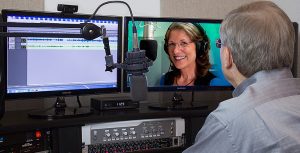 Do you live more than an hour away from our studios, which prevents you from traveling to us for an evaluation and private instruction? The answer to the problem: voice over training online via Skype.
You and John hear each other on your respective computer speakers, in full-range audio. The live video is full-frame, and usually very clear. (There are HD webcams now that are amazingly detailed.) The scenario is a faithful representation of a live one-on-one instruction session in the studio.
There are several open-source applications available online that will enable you to record each lesson, so that you may work with it as a lesson aid, in the same manner as we would record a live lesson in our studio.
When the time comes to do your demo, it can be done one of two ways: If you have a good recording studio in your area, we can set up recording time with that studio and record you via SourceConnect, or preferably, have you fly here and record you in my studio.
Want to know more about your instructor? About John.
12-lesson online package, with 2 Script Sets, Instructional CD, and The Voice Over Actor's Handbook: 1175.00 (includes shipping)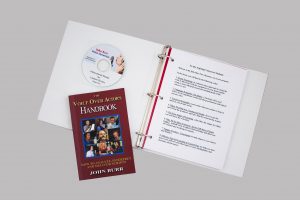 Price includes all instructional materials and shipping!
Voice Over Training Online